Noticias League of Legends
Escucha Legends Never Die, la canción oficial del Mundial de League of Legends 2017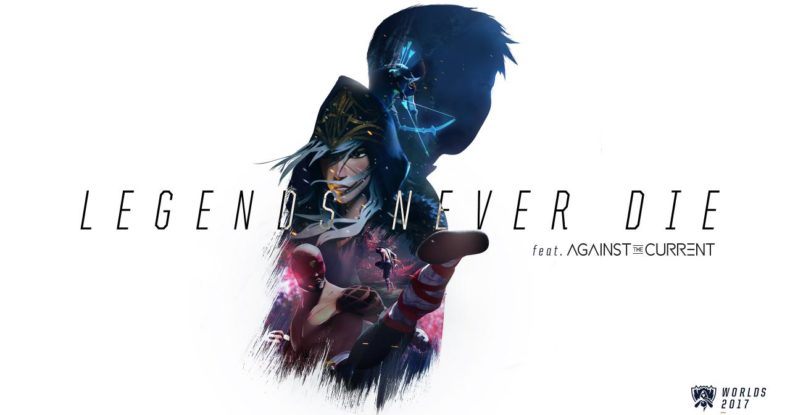 El tema de Worlds de este año es interpretado por la banda neoyorkina Against the Current y compuesto por el equipo de música de Riot Games
Primero lo importante: puedes escuchar el tema desde aquí:
Ahora, mientras lo escuchas te contamos que el tema fue compuesto por Alex Seaver of Mako, Justin Tranter y el equipo encargado de la música de Riot Games. El tema es interpretado por ATC y los arreglos vocales son una producción de Colin Brittain y Alex Goot.
Para quienes no lo sepan Against the Current (o ATC), es un grupo de Pop Rock y Rock Alternativo, formado en 2011 y sus miembros son Chrissy Costanza en la voz principal, Dan Gow en las voces secundarias y en la guitarra y Will Ferri en la batería. Poseen un álbum de estudio lanzado el año pasado titulado In Our Bones.
Si te gustó la canción, te dejamos la letra para que te la aprendas y la cantes en la ducha o donde más te guste:
Legends Never Die when the world is calling you
Can you hear them screaming out your name?
Legends Never Die they become a part of you
Every time you bleed for reaching greatness
Relentless you survive

They never lose hope when everything's cold and the fighting's near
It's deep in their bones they'll run into smoke when the fire is fierce
'Oh pick yourself up, 'cause

Legends Never Die when the world is calling you
Can you hear them screaming out your name?
Legends Never Die they become a part of you
Every time you bleed for reaching greatness
Legends Never Die

They're written down in eternity
But you'll never see the price it costs, the scars collected all their lives

When everything's lost, they pick up their hearts and avenge defeat
Before it all starts, they suffer through harm just to touch a dream
'Oh pick yourself up, 'cause

Legends Never Die when the world is calling you
Can you hear them screaming out your name?
Legends Never Die they become a part of you
Every time you bleed for reaching greatness
Legends Never Die

When the world is calling out your name
Begging you to fight
Pick yourself up once more
Pick yourself up, 'cause

Legends Never Die when the world is calling you
Can you hear them screaming out your name?
Legends Never Die they become a part of you
Every time you bleed for reaching greatness
Legends Never Die